Key experts talk to us about their use of theory in our theories vlog series
This vlog series on theoretical perspectives is based on interviews with key experts whose work can help us understand children's online lives. We asked prominent scholars in the field to reflect on their disciplinary origins and perspectives and to talk us through key debates, core concepts, and their favourite theories.
Team member, CO:RE at LSE
Mariya Stoilova
Mariya Stoilova is a post-doctoral researcher at the London School of Economics and Political Science (LSE) working on children's rights, online risks and opportunities, and well-being. She is member of the CO:RE work package 5 on theory.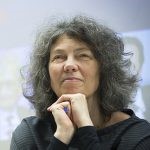 Team leader, CO:RE at LSE
Sonia Livingstone
Sonia Livingstone DPhil (Oxon), FBA, FBPS, FAcSS, FRSA, OBE, is a professor in the Department of Media and Communications at the London School of Economics and Political Science (UK). She currently directs the projects "Children's Data and Privacy Online," "Gobal Kids Online" (with UNICEF) and "Parenting for a Digital Future", and she is Deputy Director of the UKRI-funded "Nurture Network." Since founding the 33 countries EU Kids Online research network, Sonia has advised the UK government, European Commission, European Parliament, Council of Europe, OECD and UNICEF, among others, on children's internet risks, safety, media literacy and rights in digital environments. She blogs at www.parenting.digital. She is leader of the CO:RE work package 5 on theory.
CO:RE at LSE
Theories
The team at the LSE works on theory, providing a series of mutually cross-fertilising mechanisms to coordinate and support the theoretical dimension of research. The team identifies valuable theoretical concepts that offer multidisciplinary breadth and depth in understanding the long-term impact of digital media on children and youth, and coallates all in a comprehensive theories toolkit that provides guidance throughout the theory pathway, from (research) question to generating theory.